Carsten Hustedt, Michael Siefke
Flute and gong, percussion
The gong: Metal, cast in a round form, hammered and figured in many shapes, fascinating and able to produce mysterious sounds…
As its counterpart: sometimes jumbled, sometimes in contrast- Flutes of metal and bamboo, ranging from piccolo to bass…
An evening of 1001 sounds between "splashes of acoustic color" from a rainmaker or drums, anklung or bamboo xylophone,.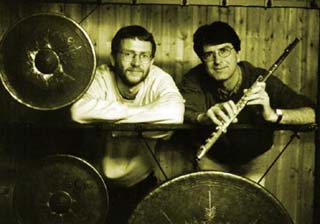 The two percussionists, Michael Siefke and Martin Muntwyler, combine the traditional Asian art of movement and sound with influences from the West and their own compositions. The Buk with its strong archaic sound originates from Korea, as well as the hourglass shaped Changgo, which fascinates audiences with its virtuous sound.
As a contrast there is the warm sounding bamboo of the Balinese rantangs against the mysterious melodies of gongs and singing bowls.
A concert for all senses: to marvel at the dance, the fusion of the drums and movement, to listen to familiar and surprising new sounds, to be touched and moved by an array of vibrations.
The ensemble flores rosarum was founded in 1991, with the aim of making the music from Hildegard von Bingen available to a larger audience. Flores rosarum repertoire has now widened to include composers of the 12th to 15th century.
The ensemble is made up of specialists of old traditional music as well as classically educated musicians who are connected by the improvisation of music from different cultures.
Flores rosarum intentionally does not play in a historically informed way, but rather they use a combination of historical and folkloristic elements, which make a new, versatile whole. In this new whole, the universal aspects of the styles are emphasized and yet combined.
As such, the different parts of music overlap, be they written, verbally transmitted or improvised music. The first CD, which was released in 1998 on the 900th Birthday of Hildegard von Bingen, builds a bridge between the music of the 12th and the artistic music of the 20th century.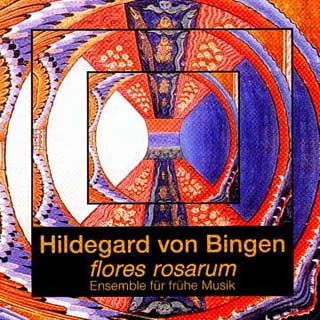 When Michael Siefke presents his solo program, the Korean buk, Japanese singing bowls, Caribbean steel drums, African djembé, all start vibrating and producing a stimulating array of sounds.
In the cross fire between strong, pulsating drums, flowing meditative sounds and melodious percussion passages, rhythm and sound energies blend together to form many nuances and strong expressive images.
Solo concerts and musical frameworks are suitable for exhibitions, private art viewings or other cultural events.